WHICH SEASON TO ELOPE IN NORWAY
First of all, your elopement is about the two of you. So if you want to go all in, this is definitely the time to do it!!! An elopement done true to yourself, is a reflection of who you are as a person and in your relationship. There are few things in life more rewarding than sharing an extraordinary adventure with your loved one. Doing something elevated above your everyday life makes you store those memories better for the coming future. Let me help you figure out which season to elope in Norway.
HAVE YOU EVER BEEN TO NORWAY?
Norway has four very distinctive seasons. So if you have a preference in regards to temperature or look of your surroundings, this will definitely be a good read for you. The most common months to visit Norway for elopements are late April through early October. I definitely do elopements outside of these months, but you will be more comfortable within these months.
Only 2 percent of Norway is developed land. Since you can travel freely, your imagination is the only thing stopping you from having your ultimate adventure. Norwegian nature can best be described as dramatic and magnificent. Stretching from beeches and rock formations in the south, to large mountain areas in central Norway. Up top you will find all of the above soaked in the midnight sun.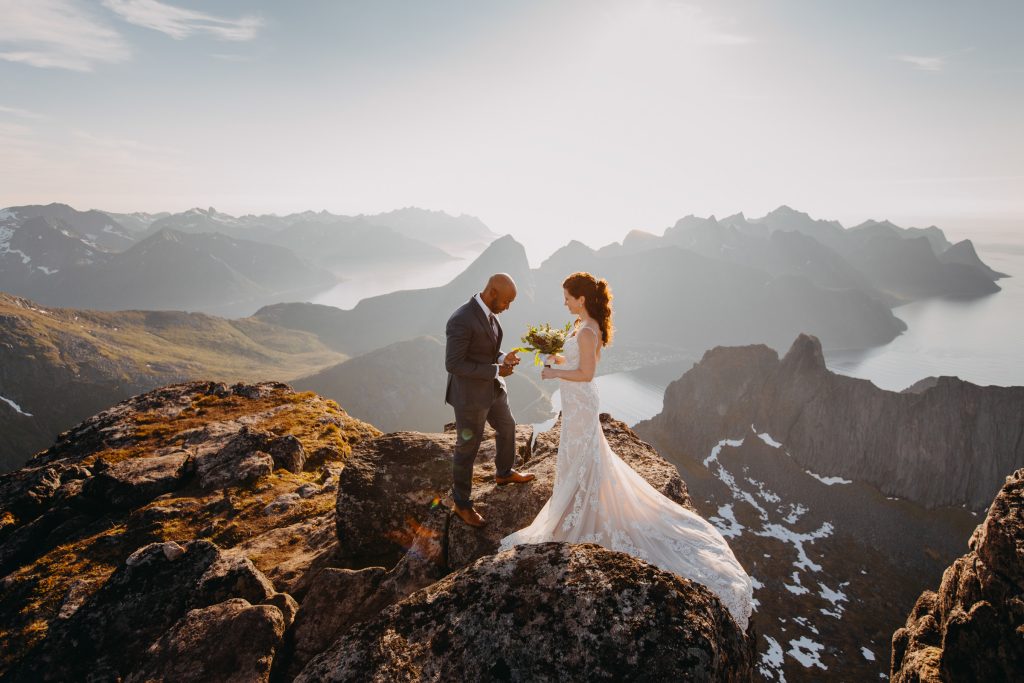 SPRING ELOPEMENT IN NORWAY
Spring in Norway is from March until May. The temperature ranges from just below freezing point up to 60 degrees fahrenheit. If you hope for snow, the northern part of Norway still has snow covered mountains in spring.
Observing spring brings something special. The air is clean and the forrest floor is covered in wild flowers.
Normal tourist season does not begin until late May, so if you like your privacy spring is a good time to come.
Waterfalls are at their definitive best in the spring because of snow melting from the mountains.
The south west and western coast of Norway is a good choice for spring. Being able to visit some of the famous spots like

The Pulpit Rock

without hoards of tourists.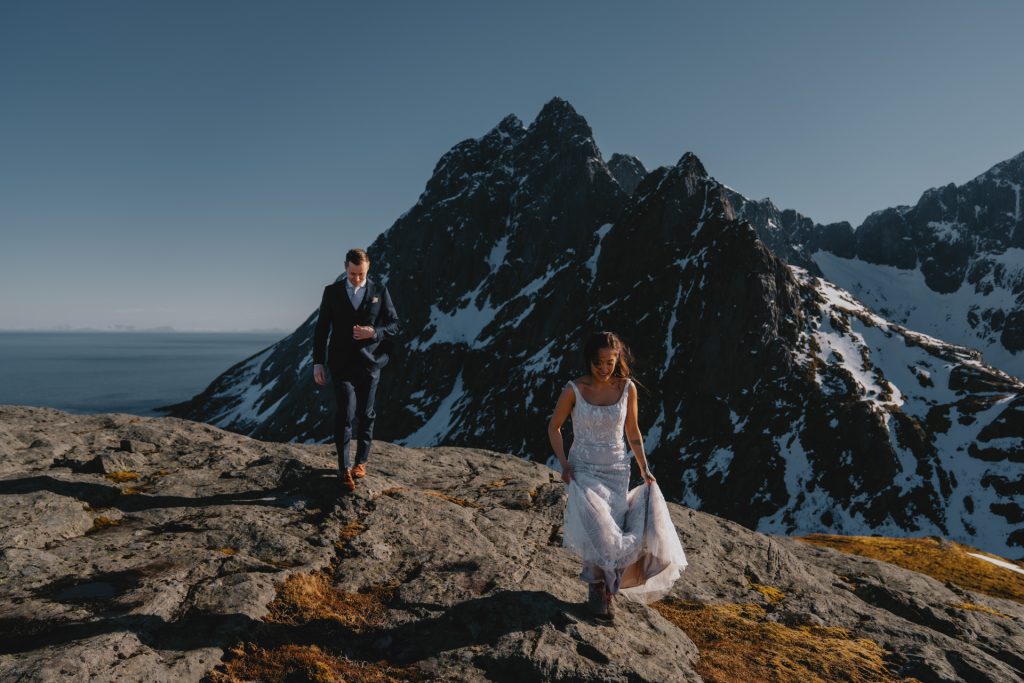 SUMMER ELOPEMENT IN NORWAY
Summer is from June until August and the temperature ranges from 50-75 degrees fahrenheit. This time of year is definitely the most comfortable season. Are you planning on hiking though, the difference in temperature between sea level and a mountain top is still significant. Make sure to pack accordingly.
If hiking is on your agenda, summer is a good season. All the mountain passages are open (closed from October-May), and the hiking trails are waiting for you. They range from about 20-30 minutes easy hikes to full day demanding adventures.
A good place to hike during summer time is

Lofoten

. From the 26th of May until the 17th of July the midnight sun is out, which means the sun does not set. Endless hours to adventure!!!
This season also offers a lot of other activities which can be done on the day of, or the surrounding days. For example kayaking, whale safari and horseback riding.
Beaches are also a good choice during summer. Why not find yourself a hidden gem for your ceremony or visit one of the amazing white sandy beaches with turquoise coloured waters? (Yes, we do have quite a few of them).
AUTUMN ELOPEMENT IN NORWAY
Autumn in Norway is from September until November. The temperature ranges from 40 degrees fahrenheit well down below freezing point. The fall is when the stunning colours comes out and the tourist start to leave. Probably my favourite season, cause the air is crisp and the sunlight warm and cozy.
This your last chance to head up the mountains, so make the best of it. If you are lucky you will get the first snow covered mountain tops as a backdrop for your ceremony.
A dark crisp autumn sky, perfect to go stargazing. Stay away from cities and heavy lit areas the get the best views.
Seeing the colours coming alive. How about ending the day with a bonfire overlooking the yellow foliage dropping down into a magical fjord?
Want the colours of autumn on your elopement day? Drop me a line.
WINTER ELOPEMENT IN NORWAY
Winter ranges from December until February and the temperature ranges from 10-40 degrees fahrenheit. Most of Norway partially or fully covered in snow during these months. This is the time to think different!
The winter months is definitely the best time to see the Northern lights, and north of the polar circle is where you see it the best. Norway is in fact the best place in the world to witness this phenomena.
In the northern parts of Norway you have the Midnight sun during the summer months, but you also have the Polar nights during the winter time. This means the sun does not rise at all. That does not necessarily mean that you will have 24 hours of pitch black (though most of the day might be), but there are several hours with blue hour which can result in a magnificent, arctic light.
Jack Frost means playtime. Why not ski on your wedding day? Or do a dog sledding ride to your ceremony spot? Norwegians are known to be born with skis on their legs, so there will be no lack of slopes or vast snow covered mountain ranges to loose yourself in.
Whatever you choose, remember that this is YOUR elopement day. Your personal and authentic day, which is entirely about what makes you both come alive and feel connected. Let me help you build a day that's entirely about you, your love, and your new adventure together.
So, which season to elope in Norway? Already made up your mind? Book me right now.