DESTINATION GUIDE
Destination Guide to your elopement in Norway or Iceland
LOFOTEN, NORWAY
To experience an Elopement in Lofoten, Norway, is pure magic… Famous for its magnificent scenery, with towering mountain peaks and glittering fjords, Lofoten takes you by surprise. Lucky couples on an adventure of lifetime may even get a chance to see orca whales or marvel at the Northern Lights, as the Lofoten Islands are one of the most spectacular places on earth to see themIIt is actually quite easy for you to get married in Norway. However, if you've pre-arranged to say your vows at home, I can still recommend a celebrant for your ceremony to make your day even more romantic and memorable.
To start your Lofoten Island elopement experience, you'll take a plane from Oslo or Bergen. Then, you may continue with domestic flights to Bodø or Leknes. The islands are also accessible by car and you may want one if you plan to stay and explore.
AirBnB is widespread, and there is a lovely seaside cabin called "Rorbu", which I recommend. If you come in the summer months you will be greeted by the midnight sun which doesn't go down for 2 months around the solstice. Comparatively, from December until February the sun doesn't rise, and and can be quite dark and cold.
Please reach out and I'll be happy to help you choose the perfect time of year and a breathtaking itinerary for your unique elopement in Norway.
ELOPEMENT LOCATIONS ON THE LOFOTEN ISLANDS:
ICELAND
When you choose Iceland for your elopement or destination wedding you can expect other-worldly landscapes and jaw-dropping views. With black sandy beaches, cute wooden churches, and fields of green next to towering volcanoes and glittering glaciers, the long summer nights in Iceland bring out brilliant stars and sometimes the elusive Northern Lights that take your breath away.
Many of the couples we work with choose to have their wedding ceremony in Iceland, and it is also a wonderful place to propose and explore. Ideally situated between North America and Europe, with a free stopover package for up to a week when flying between the continents, Iceland is especially ideal for couples who plan to get married there and continue onto an extended honeymoon In Europe, the U.S. or Canada.
Your marriage license and travel papers will be easy to acquire, as long as you're at least 18 years old and can provide original documents that are translated in English or one of the Scandanavianlanguages.
ELOPEMENT LOCATIONS IN ICELAND: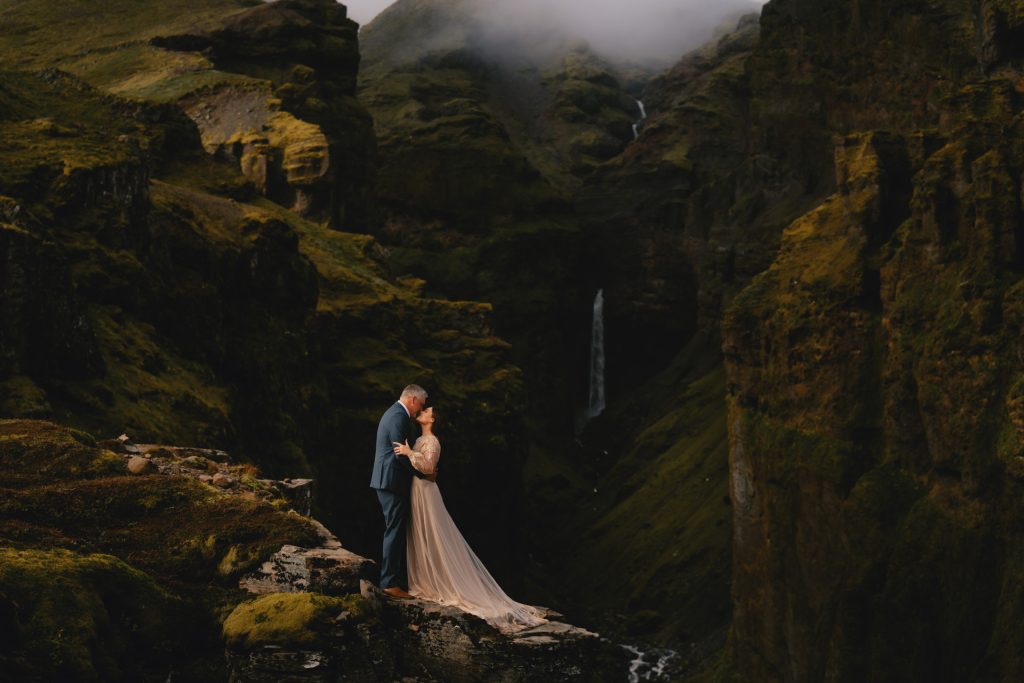 THE FAROE ISLANDS; DENMARK
Every year engaged couples who thrive on adventure flock to the Faroe Islands, choosing to have their elopement  against the area's rugged scenery.
A place that draws you in with breathtaking nature, where you'll find majestic waterfalls, dramatic coastal cliffs, and jaw-dropping green landscapes, The Faroe Islands are a rich blend of Nordic cultures, making them perfect destinations for an outdoor elopement ceremony.
Situated in the North Atlantic Ocean, only two hours by plane from mainland Europe. The 18 mountainous islands of the Faroe Islands offer 1,289 kilometers of coastline. All within close distance of the peaceful mountains. Stop in Tórshavn and experience the nightlife, before heading out to the great outdoors. I would love to capture the joy of your Faroe elopement, where the world is unspoiled, unexplored and simply unbelievable! Want to do something unforgettable during your adventurous stay? Choose between hiking, diving, biking, surfing, sailing, rock climbing, kayaking and more.
LEARN MORE ABOUT THE FAROE ISLANDS: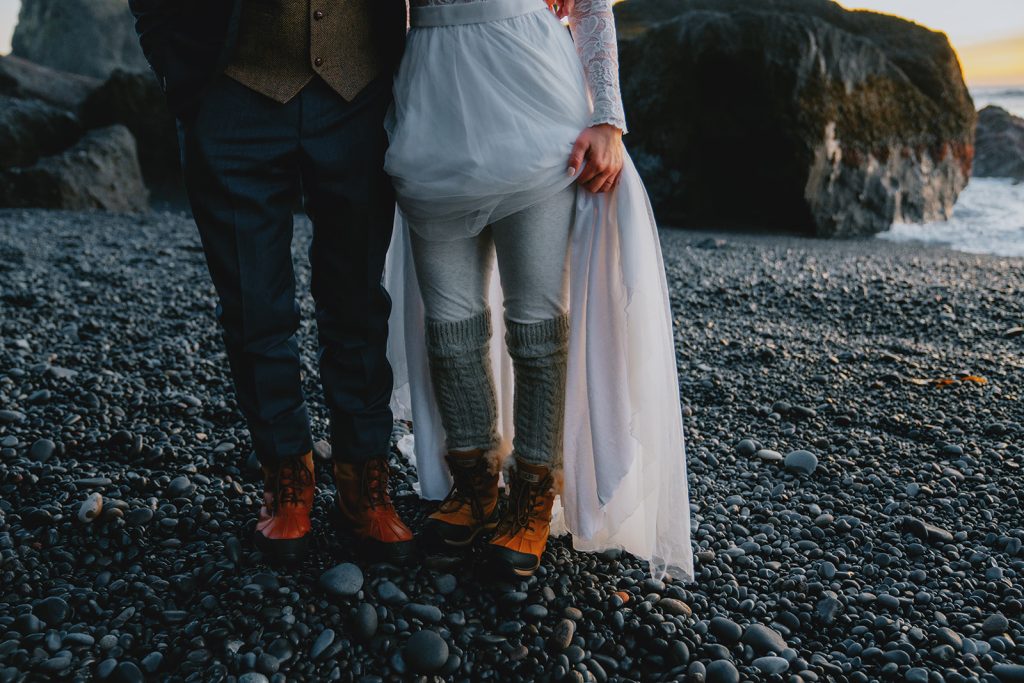 AURLAND, NORWAY
Although Aurland is a picturesque and small municipality in the Western part of Norway, it is an easy scenic 2.5 hrs drive from Bergen. Often referred to as The Gateway to The Fjords, known for its pristine environment, dramatic landscapes and charming Norweigian culture. The surrounding area includes the idyllic towns of Flåm, Undredal, and Gudvangen, all near to the famous Norweigian fjords of Aurlandsfjord, Sognefjord, and and Nærøyfjorden. The landscape here is beautiful no matter what the season, Aurland and Flåm is accessible for elopements all through the year by car or bus. Flåm, one of my favorite places, means a small place surrounded by steep mountains. True to its name, it is nestled deep along a tributary of the world's longest and deepest fjord, the Sognefjord. This is a place that's not to be missed!
,As the leading wedding photographer in the Aurland area I know the lay of the land quite well, which basically means that you'll never be wondering where to go next for a world-class travel experience and incredible elopement photography.
ELOPEMENT LOCATIONS IN AND AROUND AURLAND, NORWAY:
Ottogarden Aurland
Gudvangen

Boutique hotel

(also have guided tours)

Flåmsbanen

(awarded most beautiful train ride in the world several times)
GEIRANGER, NORWAY
The iconic Geirangerfjord is considered one of the most scenic fjords in all the world. Listed on UNESCO's World Heritage list, together with the Nærøyfjord, it is one of Norway's most popular attractions and a spectacular place for elopement photography. The fjord is 260 metres deep surrounded by mountains 1600-1700 metres high with dozens of gorgeous waterfalls crashing into it from its steep and spectacular cliffs. Over the years, I found numerous incredible viewpoints and charming abandoned farms to take engaged couples for photographs that can't help but make their friends a little bit envious.
While there are more than a thousand fjords in Norway, all along the coast, most the breathtaking ones – like those you may have seen on the postcards such as Nærøyfjord, the Sognefjord, the Lysefjord, and the Geirangerfjord – are all located in Fjord Norway near my backyard.
Let's go celebrate your wedding elopement at Geirangerfjorden, or one of the incredible fjords in my area.
ELOPEMENT LOCATIONS NEAR THE GEIRANGER FJORD:
Looking for a once-in-a-life-time stay?
Check out the famous Juvet Landscape Hotel
SENJA, NORWAY
The second largest island in Norway, Senja lies in northern Norway midway between Lofoten and Tromsø, above the Arctic Circle. Aptly named, the "fairy tale island" has a rugged side with steep mountains on its Atlantic coast and a lush and mild inner side teeming with wildlife and dotted with white sandy beaches. The midnight sun and the Northern Lights are plentiful here during the right seasons, and there are always stunning places to explore.
Over the years Senja has become a popular place for elopements and wedding photography yet it still maintains its traditional Norwegian charm.
ELOPEMENT LOCATIONS IN SENJA, NORWAY:
Kråkeslottet

(food, art and rental. It´s a cultural venue)
Segla (a unique mountain formation)