To have your elopement in the Lofoten Islands is just a magical experience. Take part in one of my many adventures with my amazing couple!
Eloping in Lofoten – a top destination if you plan to elope in Norway. This hidden gem in the Northern part of Norway is so beautiful; with it´s mountains, midnight sun and wild ocean that surround this peninsula.
Most couples who elope in Lofoten, enter via Oslo. From there you fly to the city of Bodø and last leg; a 25 minutes flight to Leknes or Svolvær in
Lofoten
. Often referred to as the «capital» in the Lofoten Islands. Both these cities are a good starting point for your elopement, so get ready to start planning your big day!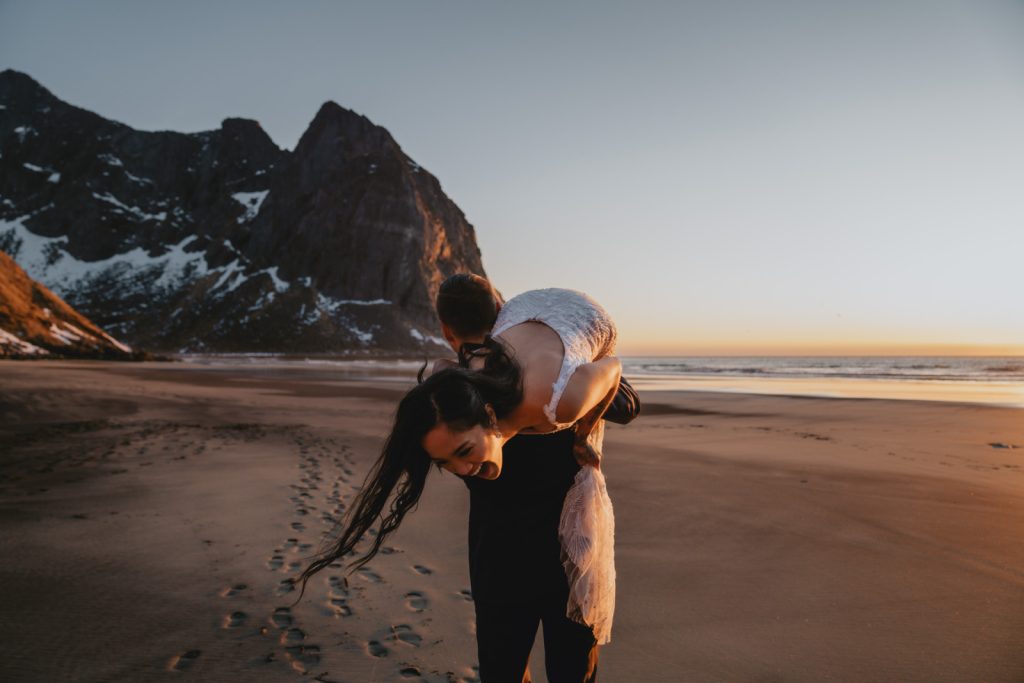 MEET THE HAPPY COUPLE
We met up in a little white cabin situated on the seafront. The cabin itself was placed in epic scenery, which made everything magical from the get go. The hair and makeup lady had already arrived when I got there, so I got my gear out and started documenting. I pride myself in finding private locations for each of my couples, so they can say their vows in peace, and focus on each other. And after their first look on the patio of their cabin we headed out to the ceremony spot. Surrounded by majestic mountains and calm waters they said yes to each other and read their innermost thoughts to one-another.
Do you want to hike to a mountain or a beach? Yes please! I love when people are being adventurous and set no limit for their big day! Knowing where the sun sets, I knew we had to do the mountain first. It would allow us to get the magical glow on the beach later on.
So what do you do on a mountain? What don´t you do? First of all, of course, you hike! Maybe a little slower than usual , but although the adventure and feeling is the most important part of the hike, you still want to look nice for your images. So no price for getting to the top first.
But when you do get there, ahhhh the feeling of content. A calm sense of being in the moment. Love every moment of it! They got changed while I spent some time scouting the scenery. Time to play! Just remember, there is no one around, so what stops you from being goofy or having a moment with your loved one in utter silence. Nothing!
After the hike we had a break to get something to eat. Being out and about all day definitely takes its toll and energy is needed. Ready for the last hurrah? No doubt about it. Did about an hour of hiking an ended up in a place made for playing around. In between running barefoot on the beach, jumping into the water and kissing like there was no tomorrow, there was time. Time to let your jaw drop because of this tiny corner of the world that showed us how important it is to be in the moment, here and now!
Ready to start planning your own elopement? Look into which season is the right one for you!