Norway truly is a destination like no other. With it´s majestic mountains, deep mysterious fjords and long summer nights it draws you in and tempts you even further. This is why eloping in Norway should be on the top of your list.
The nature is raw and untouched, which takes the experience to the another level. Do you have to be the outdoorsy kind of couple to elope in Norway? Most definitely not. Part of what makes Norway magical is how accessible everything is. You can literally step outside your car into jaw-dropping scenery.
Before you set foot there might be some questions on your mind. Let me put your mind at ease. With years of experience I am not only prepared for most situations, but I also have acquired some of the best vendors in the business. I know it can feel overwhelming, not only to travel to an entirely new place, but to plan your wedding as well, so let me help you!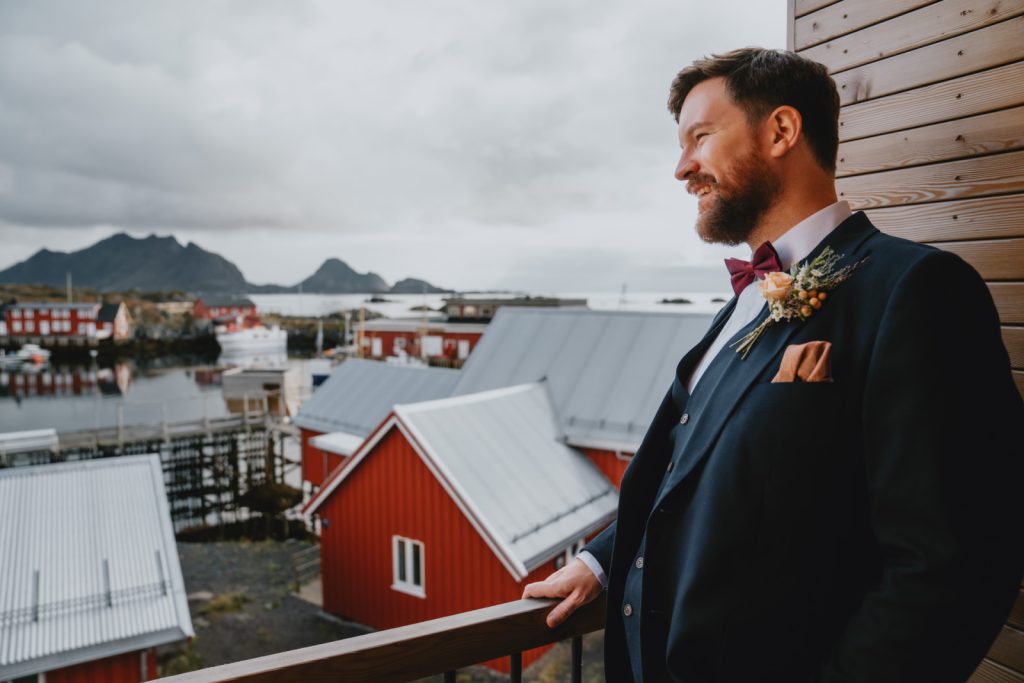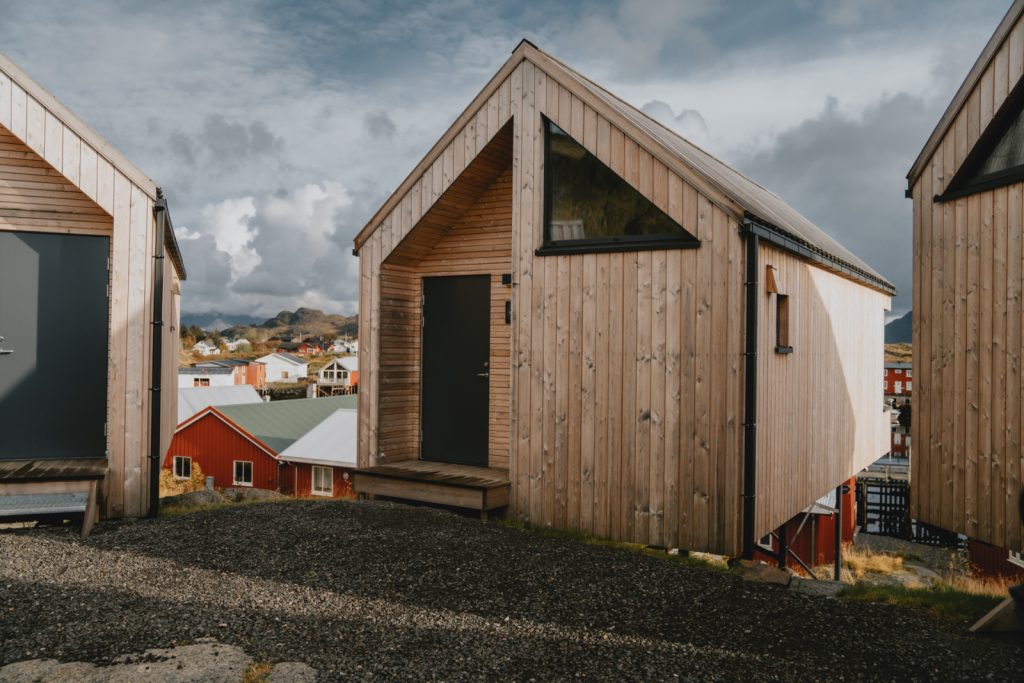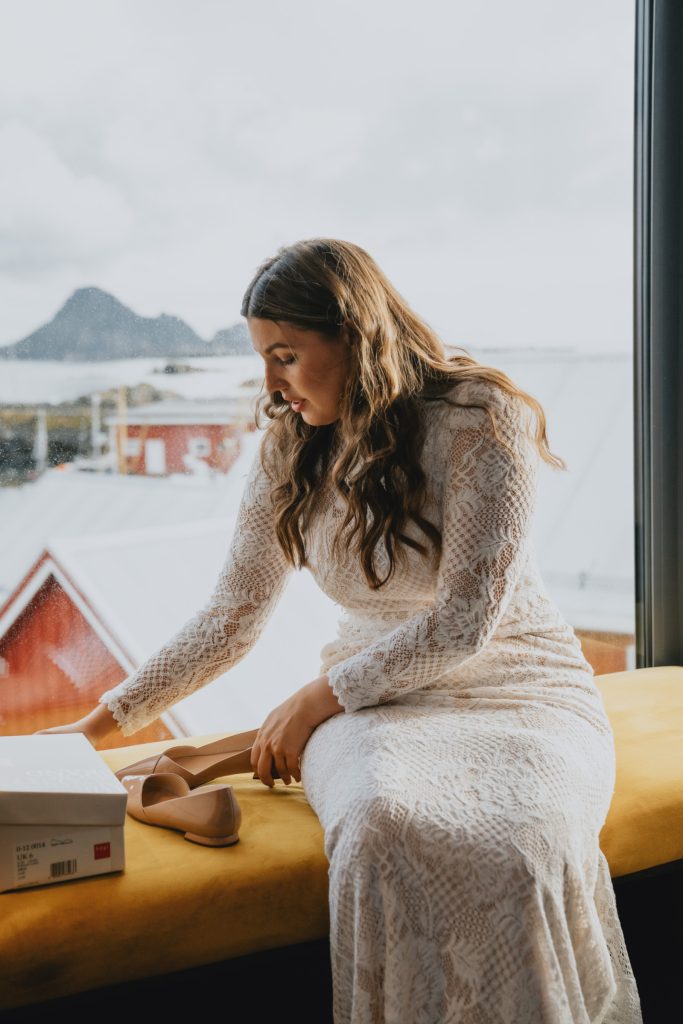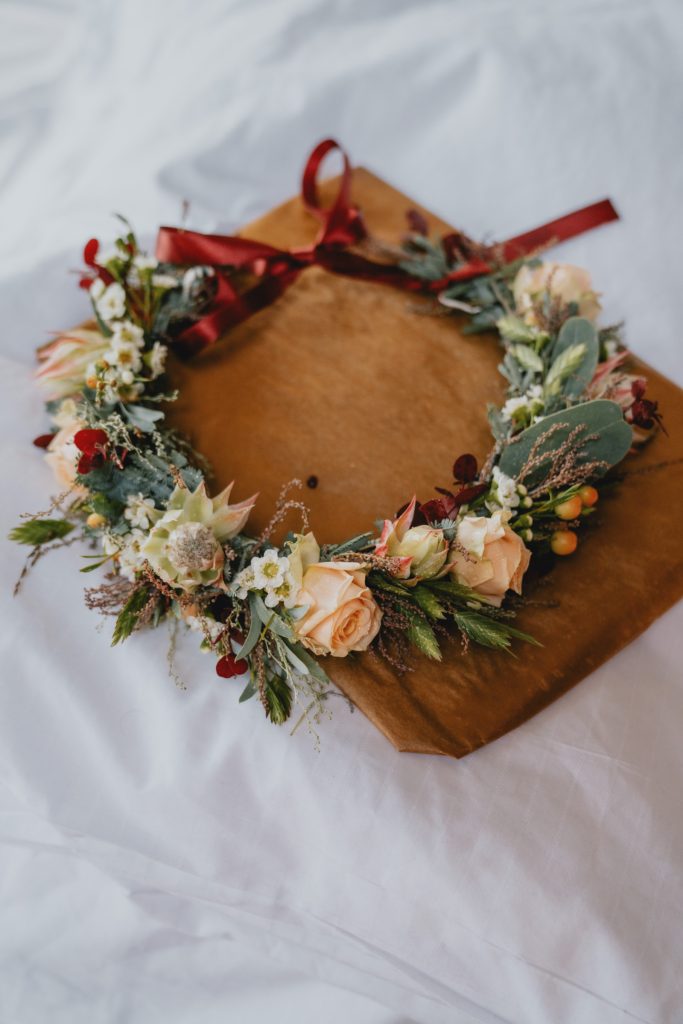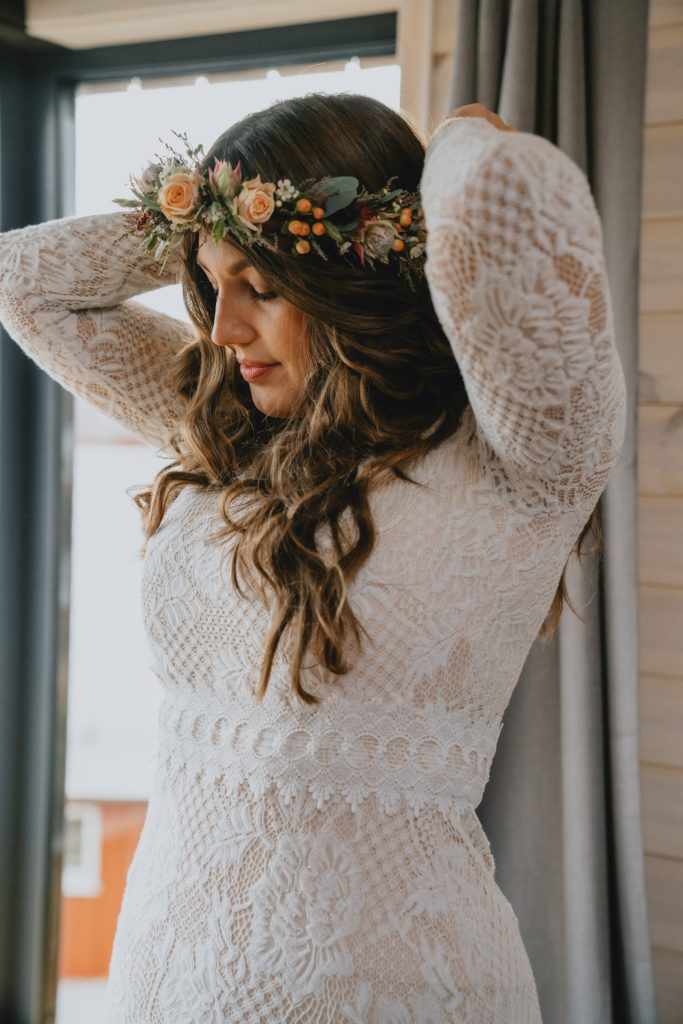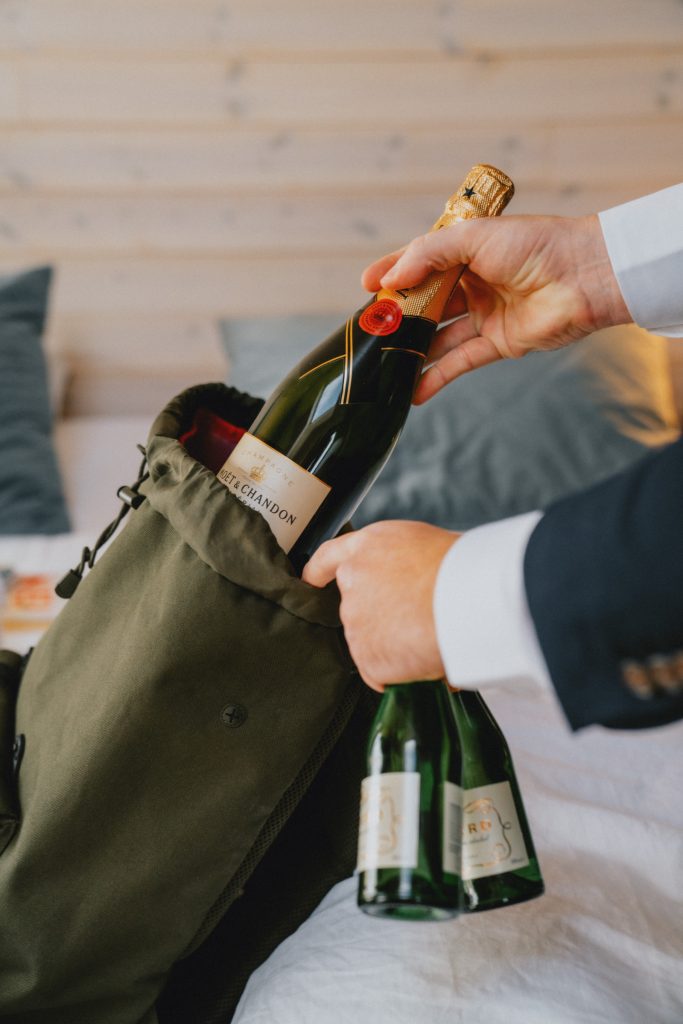 Choosing to have an autumn elopement in Lofoten
Eloping in Norway was the natural choice for this couple. Like so many others, Lana and Anders got their plans cancelled again and again by covid. Sometimes though, things can be a blessing in disguise. For some, a big traditional wedding can be stressful and they choose to focus on what is important and meaningful to them on a day like this.
They started their first day together  in a cozy cabin in the village of Ballstad. Although sharing a cabin, they still had a first look. I love those. There is no way to predict how either of them react, but the suspense gets me EVERY time!!!
Packing the bare necessities and then some, we headed out to the ceremony spot. A beautiful secluded part of the woods. What a setting to get married in, and did anyone notice the autumn colours?  They said their yes to each other and rounded off the ceremony with a champagne toast performed by a surprisingly experienced celebrant. Good times!!!
ALREADY CONVINCED?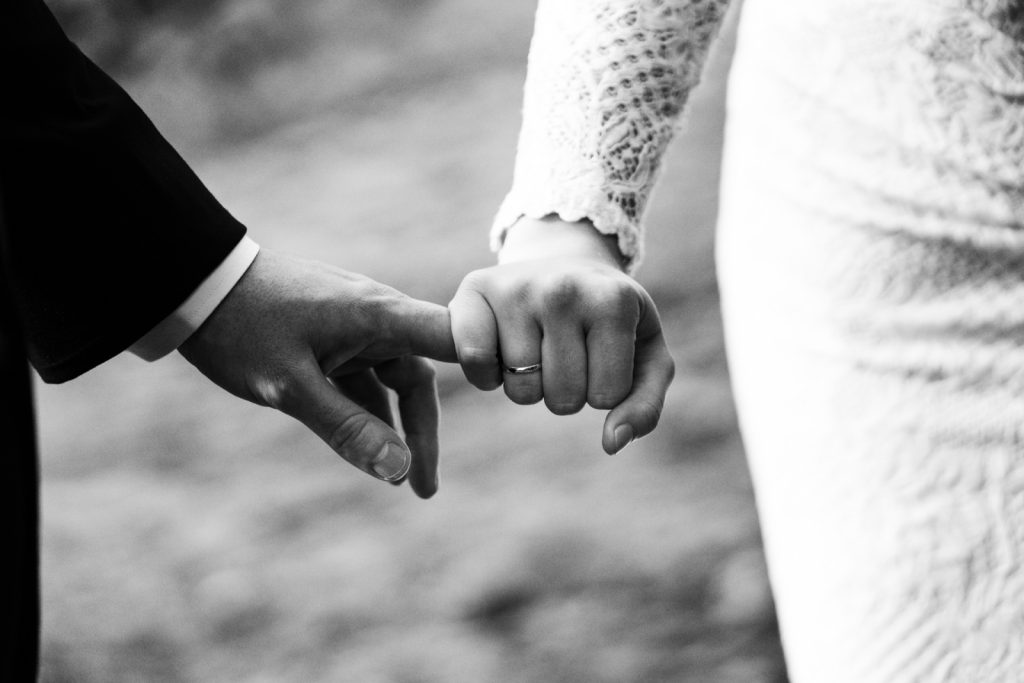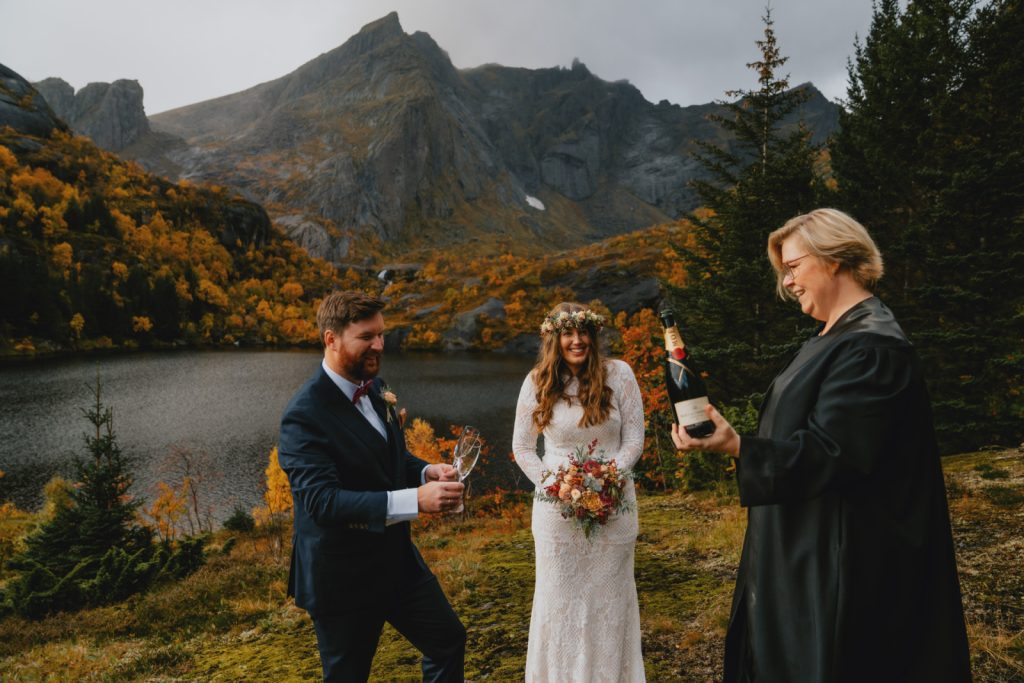 HIKE OR NOT TO HIKE…
We had plans to end the day with an evening hike, but we couldn't  leave this place without documenting the Lofoten autumn in all its splendor. After a break to get the energy boosted we headed out to start the evening hike. I am an eternal optimist, and I might have under exaggerated how steep and long this hike would be. It didn't help that we got some drizzle on our way to the top. I am quite sure the bride hated me once or twice going up, but I definitely redeemed myself. There truly is nothing like it. The feeling you get when you are done. You take one more step and the whole scenery opens up like nothing you've ever seen before. In that very moment everything got turned upside down, and it is safe to say we even got a little giddy! Who can say no to that?
I truly am blessed with such amazing couples. Not only for being who they are, but for taking a chance on me and my somewhat crazy optimism. THANK YOU!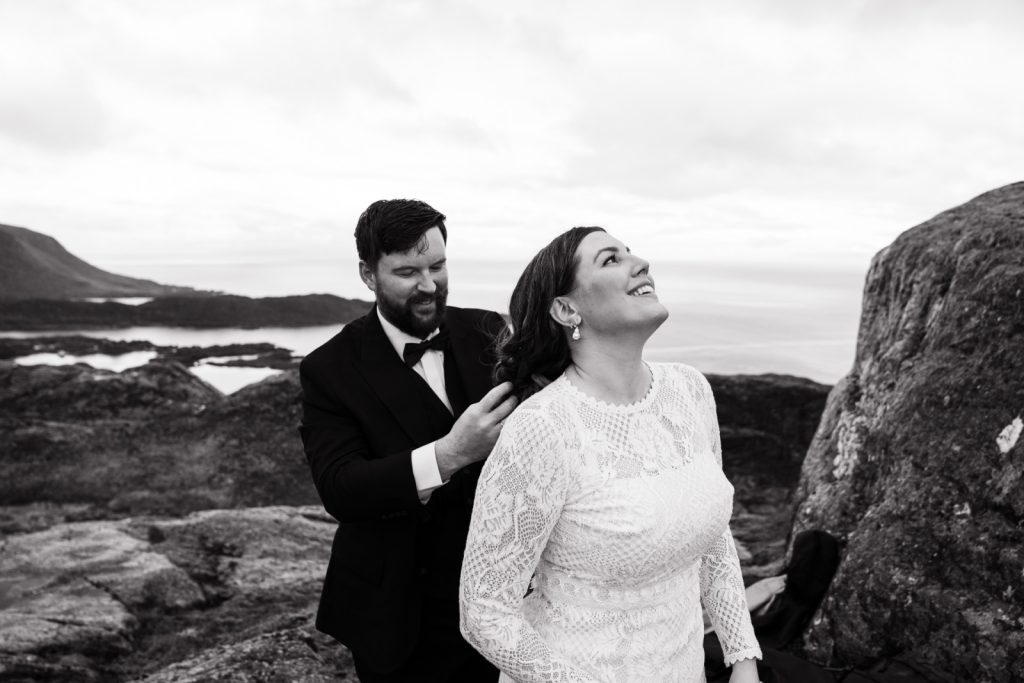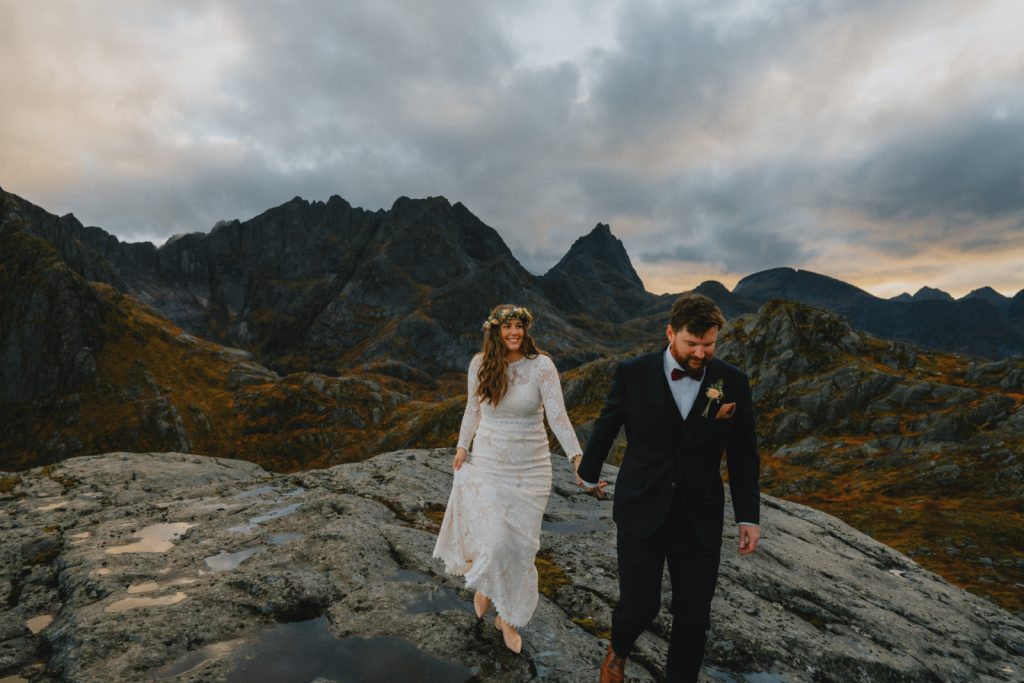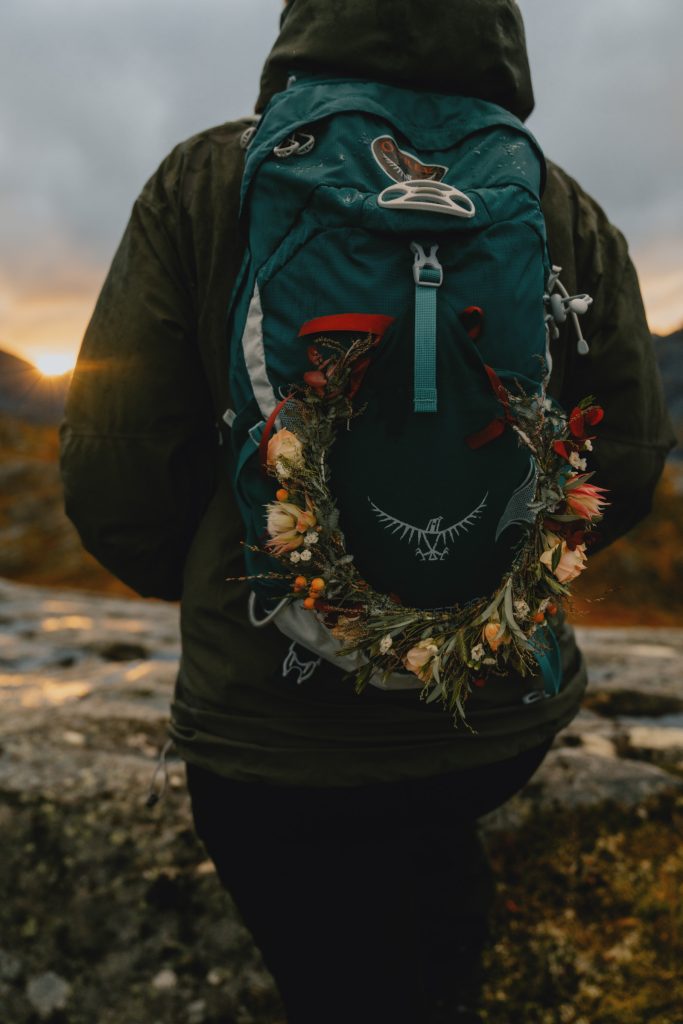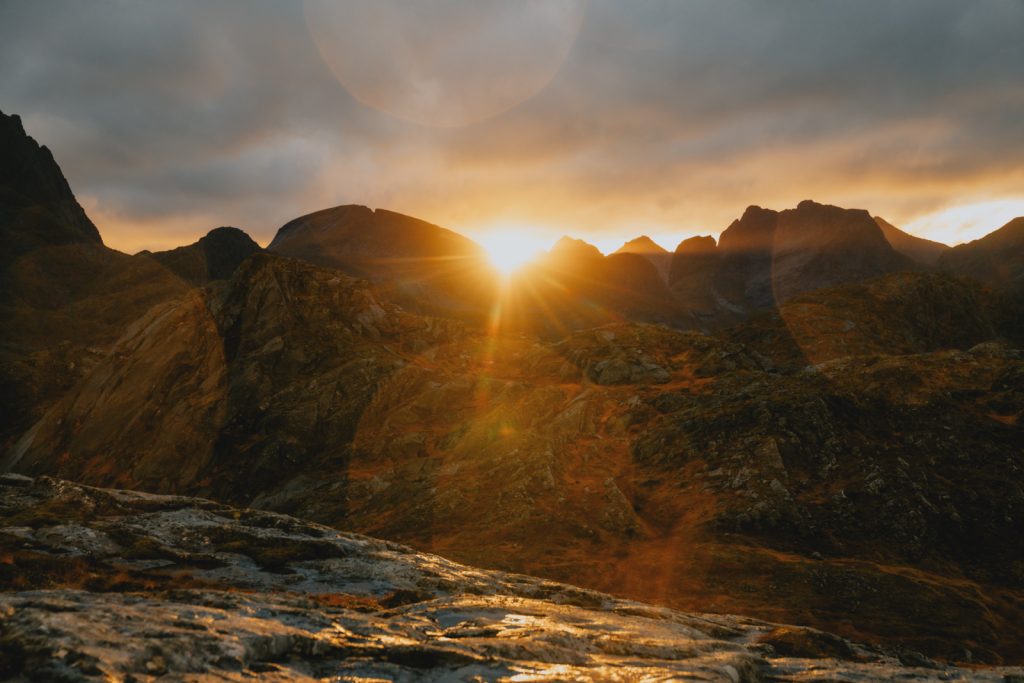 Where to go?
You really can't go wrong in Lofoten, anywhere is picture perfect. But to make it easier I would suggest choosing one of two airports to arrive in:
Both of these airports are just ta 25 min flight from the mainland.
Where to stay in Lofoten?
Hattvika Lodge is a beautiful retreat in Ballstad (as seen in the photos). The cabins have a modern twist with a cozy feel. The lodge offers activities like SUP, kayaking and guided hikes. They also have an amazing restaurant (FANGST) with some of the best food made with local produce Lofoten has to offer.
Tempted to start planning your elopement in Lofoten?
Head on over to my contact form for more info or check out this post about the different seasons eloping in Norway offers.