If you are planning an elopement in Norway, then it might be good to know what Norway is about. I will give you insight into how to plan your elopement in Norway, and touch upon a lot if different topics. An elopement in Norway is about magnificent nature, majestic mountains and the world-renowned fjords…
In recent years, Norway has proven to be one of the most popular elopement destinations in Europe. In particular, couples are attracted to Lofoten Islands and Senja in the northern part of Norway.
What area is perfect for your elopement?
Norway has a selection of beautiful places, ideal for carrying out an elopement. Feel free to start at visitnorway.com and look for places that can tempt you to plan your elopement in Norway. Find out what suits you as a couple and remember it's always about you two.
I am an elopement specialist and I have teamed up with couples searching for the ultimate wedding experience in Norway over the last 12 years. Most of the elopement couples are adventurous and curious people. They often enjoy hiking and are not afraid of get dirty while having the experience of a lifetime.
Having an elopement in Norway is truly an experience. An adventure that will carry the memory of your big day for the rest of your lives.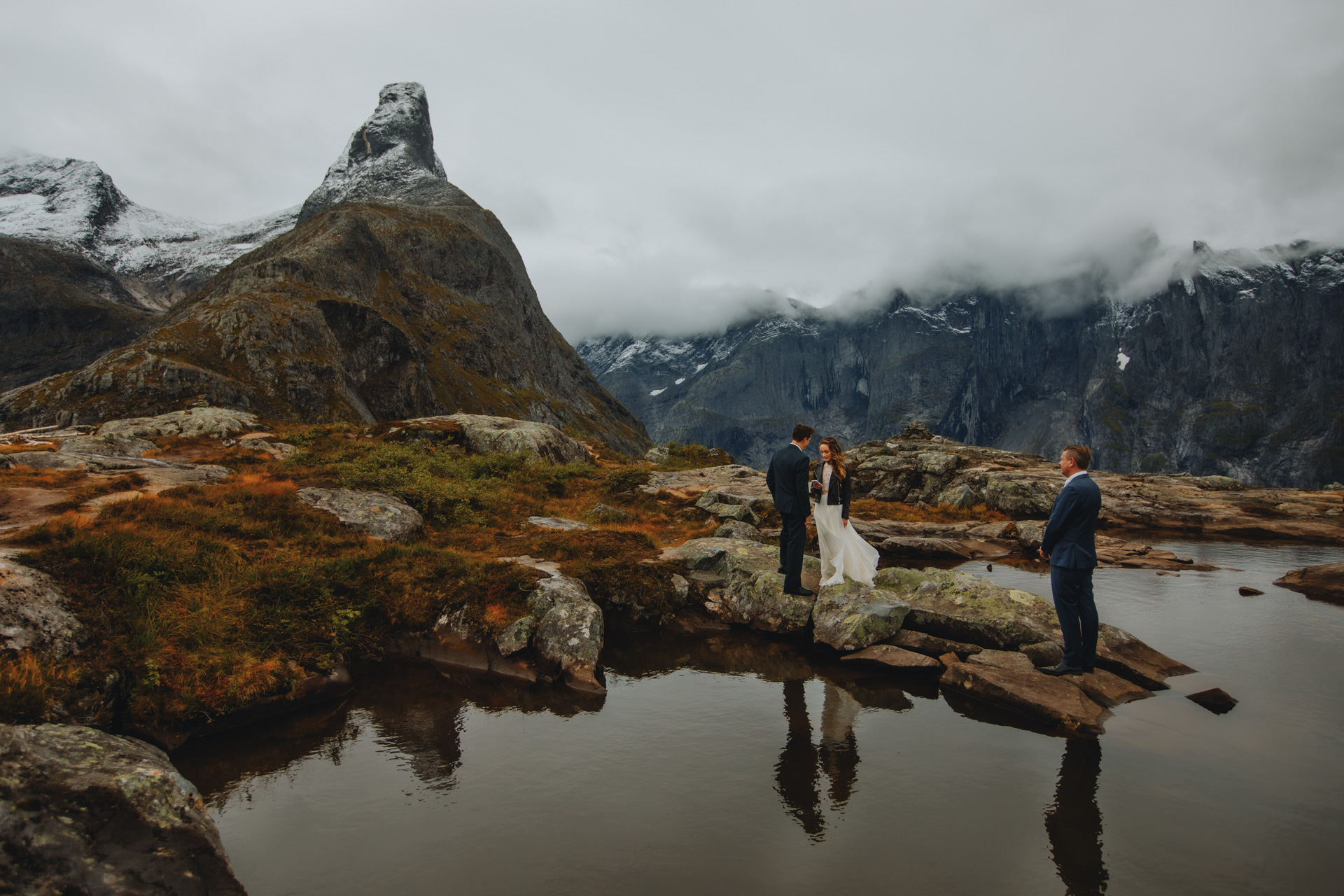 Season
The best time to visit Norway, would be the typical summer season from May to September. In the summer season you experience mild temperatures and long summer nights. The famous midnight sun (May to July) never sets, subsequently making the possibilities endless. The winter season in Norway can be cold and extreme, specifically north of the polar circle . Simultaneously the winter season offers you the possibility to experience the famous Northern light (Aurora Borealis).
Getting here
By international flight you can fly to Oslo (the capital) or Bergen, both good starting-points for your Norwegian elopement. You can also fly in to other major cities, just let me know and I will help. You also have a variety of travel options with domestic airliners, ferries, trains or buses. The public transportation network in Norway is highly efficient and can offer affordable prices. To complete your exploration of Norway at your own pace, rental car would be highly recommended.
Getting Married in Norway
Local requirement and paperwork would need to be submitted to the Norwegian Tax Authority website, otherwise your marriage won't be legally recognised. Many choose to sign the legal papers back home before coming to Norway. Similarly you can hire a humanist celebrant or simply just an officiant to perform the wedding ceremony by your request.
In Norway we have an unwritten law stating that the nature is free and accessible to everyone. So, just pick a spot by the sea or maybe you prefer a ceremony on a mountain top. Just be responsible and take into consideration that you should leave no trace!
Some top elopement spots in Norway:
THE NORTH OF NORWAY
1. Lofoten Islands in the northern region of Norway. You fly to Leknes Airport, via Bodø, where you can experience the majestic mountains and get the feeling that you are at the end of the world. There are very few hotels in Lofoten, so accommodation is mostly done by AirBnB or in small cabins, locally named Rorbu or Rorbuer. Lofoten Island offers a stunning nature and the perfect place for hiking.
2. In recent years, Senja has emerged as a favorite and offers much of the same as Lofoten Islands. Although significantly more unspoilt, Senja is located on a peninsula that faces the wild oceans of the far north. To get to Senja, it is easiest to fly to the northern city of Tromsø and from there you continue 2 to 3 hours in a rental car. Tromsø, has locally been referred to as the Paris of the North because of its vibrant inhabitants and the landscape is beautiful wherever you turn.
 THE WEST COAST OF NORWAY
3. Aurland in the western part of Norway, just 2.5 hour drive from Bergen, is located in the famous world heritage fjord – Nærøyfjorden. Nearby you will also find the rural town Flåm, which is at the heart of this beautiful fjord. Here you can make a day trip with Flåmsbanen (The Flåm Railway), otherwise known as the most beautiful train ride in the world by National Geograpichs.
Should you desire a sledge ride with reindeer (winter season) or to see wild killer whales in their natural environment – you are in the right region.
4. Trolltunga (Troll Tongue) is a particularly spectacular mountain plateau in the region of Hardanger, close to the small town of Odda. In this western corner of Norway, close to Bergen, you go along the Hardangerfjorden with magical scenery as far as the eye can see. You are surrounded by beautiful mountains and thousand year old glaciers that can be climbed, even in the summer. If this appeals to you, you can continue a few hours south towards the city of Stavanger. Here you can experience Preikestolen (The Pulpit Rock) in Lysefjorden, which is a truly unique experience. This mountain plateau was recently used as a backdrop for the latest Mission Impossible movie starring Tom Cruise. Preikestolen has been voted "The Worlds Most Spectacular Viewpoint" by Lonely Planet.
THE TROLLS OF NORWAY
5. Trollstigen (The Trolls ladder) is a famous road in the western Norway, between the major cities; Bergen and Ålesund. Trollstigen can be combined with a visit to Geirangerfjorden, one of the most beautiful fjords in Norway. The drive along Trollstigen is undoubtedly more dramatic than most people are used to. What is special about driving in Norway is the fact that people live just about everywhere, even on the narrowest mountain ledge there will be a house. The surrounding mountains and the nearby regions with Rauma and Åndalsnes will be perfect to complete your Norwegian elopement experience.
This is just a small selection and some highlights, but I hope this helps you on your way to plan your elopement in Norway. Furthermore, do not hesitate to contact me and I will assist you in every possible way and remember; ain't no mountain high enough…