Magical South Iceland elopement 
Vast landscapes and endless ways of celebrating their love for each other. 
Let me share a little love story that happened on a cold September day in Iceland. For those who haven't been, this place needs to go on your bucket list. It has something for every personality and it will leave you amazed by something like this existing in real life. Join me for a magical south Iceland elopement.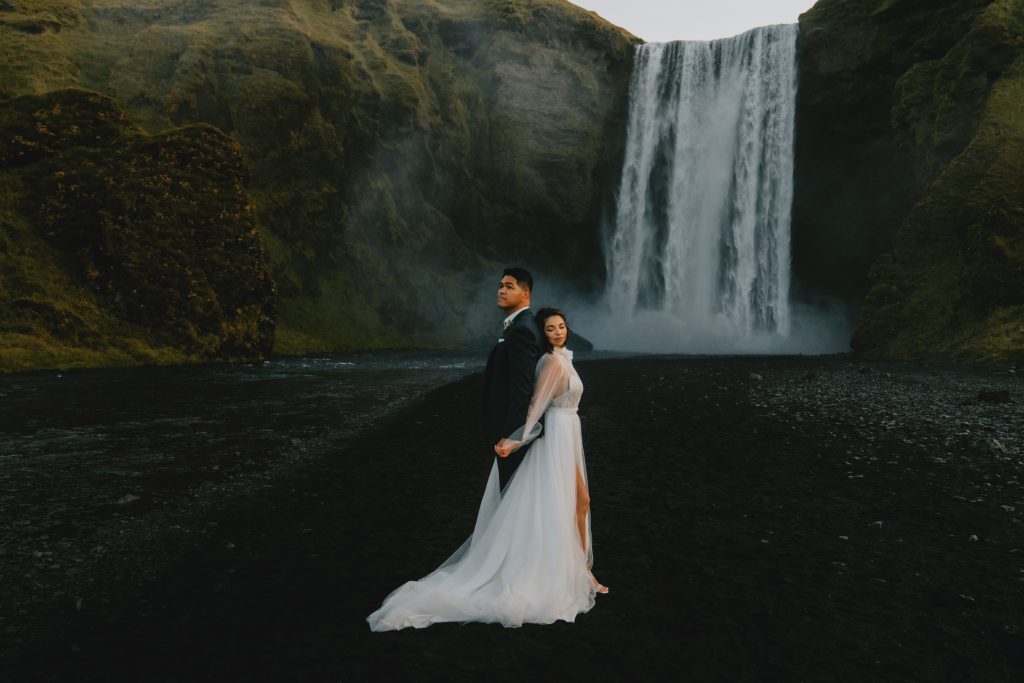 JACQUELYN & HARLEY`S story in their own words.
How did you get engaged?
Harley (Husband) took me out for what I though was my 30th birthday. He scheduled a helicopter ride over Los Angeles and we landed on a building's rooftop. We got out of the helicopter where there was a charcutier picnic already set up with some Champagne. In the middle of sipping some champagne, he got down on one knee and proposed! It caught me completely off guard, which is amazing because Harley is such a bad liar. I know it was hard for him to keep this secret and probably why he had to use my birthday as a coverup story so I wouldn't suspect anything. Hehe!
Did everything go according to plan leading up to the wedding day?
Yes! Surprisingly we had minor issues. My dress was the last one available, and I purchased off the rack the same day I tried it on. Harley's suit was a custom color and had arrived before the expected delivery date. All of our travel plans were smooth and we were extremely lucky to have no issues leading to the day. 
Why did you choose to have an elopement wedding?
We wanted an experience that was just for us. We knew how expensive it was to plan a wedding and decided to focus all our resources towards an awesome elopement and honeymoon. We are lucky enough to have a small group of friends and family who supported our decision. I (Jacque) am personally very uncomfortable being the center of attention and the thought of planning a wedding exhausted me. Nothing about it seemed enjoyable. So, having an elopement seemed so intimate and right for us.
How did you end up with the location for your wedding day?
Ultimately, we wanted a place we both loved. Ironically, we had Hawaii in mind first. But at the time Hawaii was being over touristed and was on the cusp of being shut down for travel, we didn't want to risk it. We sat and talked for weeks throwing locations back and forth. Italy… France… Vegas… The usual stuff. But then we talked about bucket list locations. We narrowed it down to two, the place we could see the northern lights from, and Oktoberfest. So, we did both! After our elopement in Iceland, we flew to Germany for our honeymoon. We had a blast, our whole experience was a once in a lifetime opportunity we are so grateful for. We met so many amazing people in both countries and have memories we will talk about for the rest of our lives. 
What was your biggest challenge planning your wedding?
This is a funny question, because we faced a lot. But after it's done I could only remember the good stuff. Thinking back on it, my major challenges was deciding how I wanted my hair done. I had long hair all the way down my back. My long hair and the dress I chose just weren't a good combo. I knew I didn't want to wear my hair up, so, there was only one solution. I cut 9 inches of hair to achieve the look I wanted. After growing my hair for years, it was a stressful and dramatic decision since I know how long it's going to take to grow it back. I definitely don't regret my decision, but I do wish hair grew faster.
Overall, we had plenty of small challenges. But with an elopement, there is so much more control over your choices. After we coordinated our elopement day with Christin, everything else started to fall into place. It was easy to make it to Oktoberfest, we knew how much time we wanted to spend in Iceland and how much we needed to save. 
What is the biggest memory from your elopement day?
Seeing each other hike in our wedding clothes was truly memorable!!! We couldn't help but laugh and say "I can't believe we're doing this right now! Christin, take a photo of us!" When we close our eyes and think about this day, it's the first thing that comes to mind. Who hikes hills in wedding clothes!? ha ha ha!!!
Is there anything you are really happy you chose to do?
Our happiest decision was choosing Iceland. We don't know who said it first or who's bucket list it was on, but it's a decision we would happily make again. Also, having an adventure elopement with just the two of us was such a great decision.  It was so intimate and we were able to create meaningful memories in a beautiful country.  I'm also really happy in the dress I chose! Because although I knew Iceland was going to be cold, I thought of how I wanted to look in the pictures. And they came out wonderfully! Definitely worth the pain!
Do you have any advise for future couples planning their wedding?
Do what makes you happy! I know it's a cliché answer, but it is honestly the mantra we were going by. There's a lot of pressure of celebrating this day with family, and you may get lost focusing on what's important and meaningful to you. So, we suggest to take your time and think about how you can make your special day memorable; Whether in the company of the people you love, in an exotic location, or just going to the courthouse. Just remember that this day belongs to you.
What was your favourite part of working with Christin?
From Jacque;
My personal favorite part of working with Christin was on the hike down from where we said our vows. I'm not sure if our words got her emotional, or the altitude was making her happy. But on the hike down we were having some amazing laughs and conversations. Christin was talking about her family, how they weren't usually too affectionate by nature, but she was sure to be affectionate with her sons.  It's such a vulnerable day for couples, and to hear some moments Christin has with her family just helped me feel closer to her and really enjoy the overall experience. 
From Harley;
My favourite part would be the adventure and challenges Christin presented to us. She took us to the most breathtaking scenes, not all easy to go to! She really wants to get the best possible out of us and I really enjoyed that about her. I loved her professionalism and her energy. She definitely gives it her all to make you get the most out of your day.
I truly loved helping this couple achieve their dream elopement and I am a richer person for having spent the day in their presence. Truly one for the books!!!