Moody Norway elopement on Senja Island I Stella & Andreas
Situated north of the artic circle, Senja is the second largest island in Norway. With it's dramatic mountains and wild untouched nature, Senja truly is a fairytale island. Between late May and July you get to experience the midnight sun, which means the sun doesn't set. Gives you endless hours to discover and adventure through this stunning place. Join me in a moody Norway elopement on Senja Island with Stella and Andreas.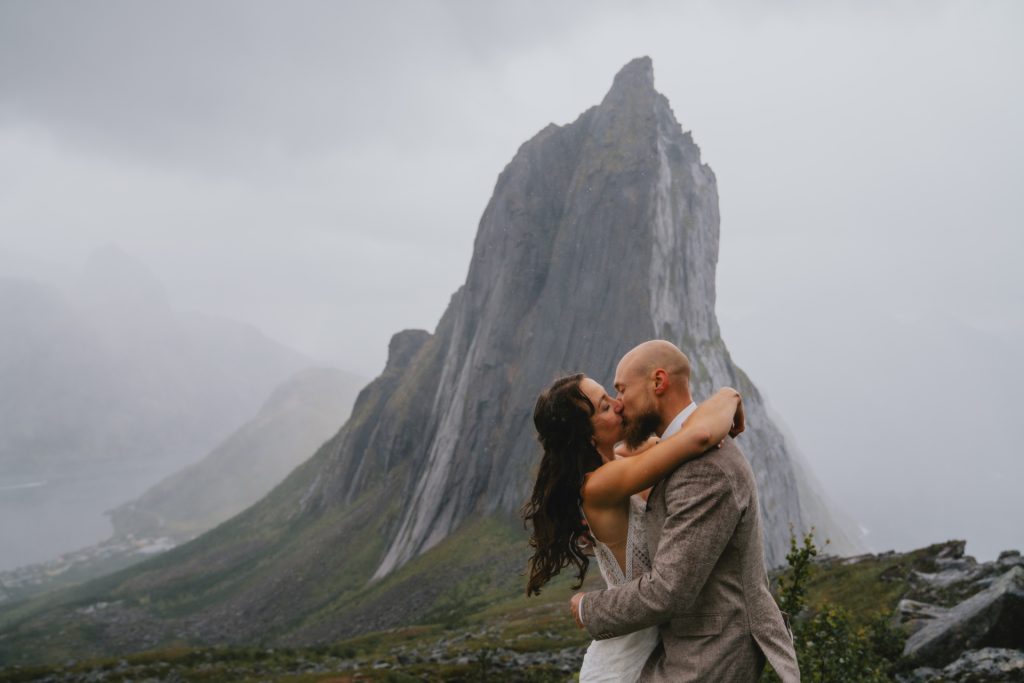 TRUE NORWEGIAN ADVENTURE ELOPEMENT
Hands down, I have never met a more dedicated and adventurous couple than Stella and Andreas. Facing gale force winds on their wedding day, nothing seemed to change their minds. They adapted and made the day their own, making it magical and powerful. 
What their day looked like;
Getting ready in their driftwood cabin by the sea
First look outside of the cabin
Having their ceremony in a fisherman's shed close by
Having a snack and coffee in their cabin
Heading out for some portraits at Tungeneset
Changing to end the day with a hike
GETTING MARRIED ON A STORMY DAY IN NORWAY
They rented a quaint little cabin situated by the open sea on Senja for their elopement. Although tiny, it was a two story cabin, making it perfect for getting ready separately.
Surrounded by a storm outside and candles inside, the preparations had a moody and cozy vibe. She upstairs, him downstairs. Seeing that it was an ongoing storm outside, we had to wait for the right moment to do the first look. Catching a break from the rain we leaped at the chance and ran outside. Little did we know, the wind was picking up making it hard to stand on our feet. Didn't matter though, cause they were lost in each other, seeing one another for the first time.
Our plan for the ceremony was to have it at a beautiful beach close by, but due to the tide, the beach was all gone. The owner of the cabin offered to have the ceremony in a shack made of driftwood standing on poles on the sea. Sheltering us from the strong winds, it turned out to be a blessing in disguise. Surrounded by driftwood and old fishing equipment inside and the raging storm outside, Stella and Andreas said their "I do´s".
CHOKOLATE SPREAD, BLUEBERRIES AND A CUP OF COFFEE
Although high on adrenalin and fuzzy feelings, you definitely need a break once in a while. We decided to head back to the cabin for a little lunch break, before heading out again for some portraits. Boosting our energy for the highlight of the day, the mountaintop hike. 
In Norway, you find hikes of all lengths and difficulties. But, what is a common denominator is that they all start going up right away. For that exact reason I suggest changing on top, which makes a more comfortable hike and a warmer experience once on top.
Stella and Andreas hiked the mountain like they've never done anything else. They would probably have left me in the dust, if they didn't actually need me he he. Once on top, they changed into their wedding attire. Ironically enough, the second they were ready, the sky opened up and gave us a cold welcome. Nonetheless, they powered through, making it look easy. For me, being the observer, I saw a couple connecting even more over the harsh conditions. It was magical seeing their emotions unravel. 
I would say, enduring more than most, their elopement day did not look like what we originally planned, but we created a new plan, and had the most intimate, magical day celebrating love.
Nothing quite beats a moody Norway elopement on Senja Island.